What It's Worth: Strengthening the Financial Futures of Families, Communities and the Nation
View Resource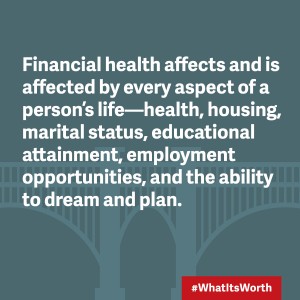 A new book, What It's Worth: Strengthening the Financial Future of Families, Communities and the Nation provides a 360-degree view of the financial problems and challenges millions of American households face. The book highlights the enormous creativity and innovation underway to improve financial well-being, and provides concrete ways that nearly all sectors of society can implement proven and evolving solutions.
Published by CFED and the Federal Reserve Bank of San Francisco, with funding generously provided to CFED by Citi Foundation, this collection of essays from some of the nation's leading experts— representing the fields of education, housing, health and more—will make clear why every household's financial health matters for the U.S. economy.
Watch the new animated video on "Strugglers" and "Thrivers" below and go to strongfinancialfuture.org to learn more.