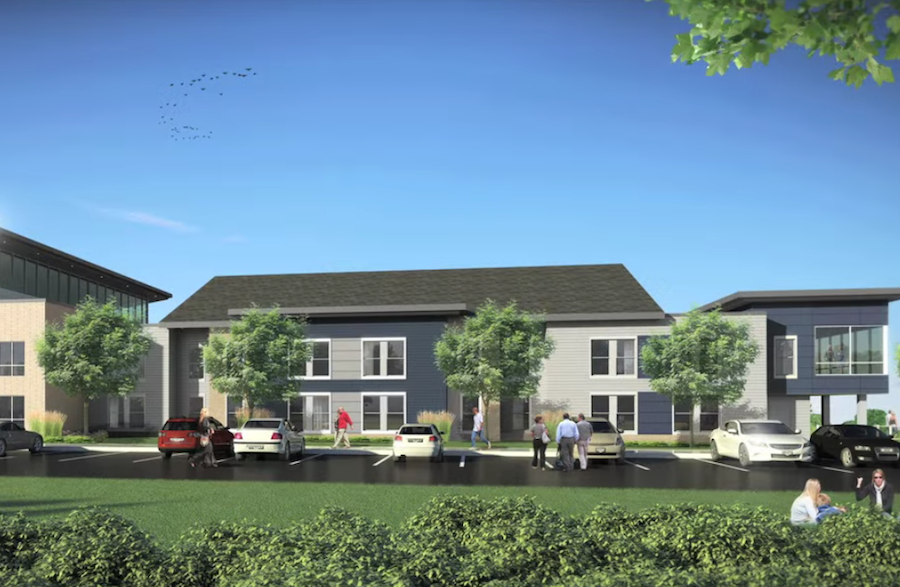 Can Specialized Housing Help Improve the Health of Deaf Americans?
Deaf and hard-of-hearing residents have unique housing needs: security and fire alert systems that are not dependent on alarms, layouts that don't obstruct visibility, doorbells that light up instead of ring, and high-speed internet access that enables specialized communications technology. Although the U.S. Census does not keep a count of deaf Americans, by some estimates they make up 13 percent of the population.
Advocates for deaf tenants have often had to take a reactive approach to the lack of accessible housing, filing complaints against housing discrimination and securing the right for deaf tenants to make changes to their rental units. But things are changing.
A new affordable housing development in Henrietta, New York, for example, is among a small number of complexes designed specifically for and with deaf residents.
Up to 50,000 deaf and hard-of-hearing residents are said to live in the Henrietta area, which is home to the Rochester School for the Deaf and other institutions that support and study accessibility and other related issues. Yet a large deaf population does not ensure accessible housing.
There are wide health disparities between the deaf and hearing populations.
Deaf people in America have disproportionately low education and employment rates, earning only 50 percent to 70 percent of what their hearing counterparts earn, according to the Dallas Hearing Foundation. Yet as recently as 2014, there were fewer than 400 low-income housing units deemed accessible for deaf Americans, according to estimates by the National Association of the Deaf. The same organization conducted research in seven states, studying how apartment complexes in general handle prospective deaf tenants. They found that 86 percent gave less information to deaf residents and 40 percent hung up on deaf callers at least once.
With its 61-unit complex in Henrietta, nonprofit developer DePaul Properties aims to prevent the hassles and ease the feelings of isolation that many deaf people experience.
The units have lighted door alarms and fire alarms, and wiring that allows for the installation of bed shakers that alert sleeping residents in cases of emergency. The layout of the units is designed for maximum visibility, and the complex is outfitted throughout with security cameras. An on-site manager is fluent in sign language.
A housing complex like the one in Henrietta can also provide residents with a built-in support system. With a number of deaf individuals living together—and with staff who are familiar with the community's needs—residents can share information, build relationships, and feel safe in their homes. The dynamic can lay the groundwork for improved physical and emotional well-being among a population that has not traditionally received equitable support.
According to the American Psychological Association, there are wide health disparities between the deaf and hearing populations, in part because of inadequate assessment, treatment, and follow-up with health professionals. The communication barriers alone often dissuade regular visits to the doctor, and health outreach efforts may overlook deaf communities. Fewer deaf people use preventive services or follow-up treatment. Deaf individuals, for example, have higher rates of obesity and poorer cardiovascular health outcomes, according to the APA.
The Henrietta complex was preceded, in 2008, by Apache ASL Trails, a 75-unit development for deaf and hard-of-hearing residents in Tempe, Arizona. Despite originally providing funding, the Department of Housing and Urban Development (HUD) said in 2013 that the development was an illegal use of public funds. An audit found the practice of barring hearing residents to be discriminatory. HUD eventually dropped the case, allowing deaf residents to continue to receive preferential tenancy.
The $17.6 million Henrietta complex, funded by a mix of Low Income Housing Tax Credits and awards, and loans from the New York State Housing Trust Fund Corp., the Community Preservation Corp., and Urban Initiative Funding, does not prohibit hearing residents. In fact, many live in the apartments, often taking sign language classes to learn to communicate with their neighbors. But the unit design and amenities particularly attract deaf applicants, who make up more than half the population.
Trying to appeal to deaf residents doesn't always go as planned. A similar complex designed for deaf seniors in Fremont, California, now houses more hearing residents than the property managers would like. The issue there was that deaf senior applicants tended to exceed the legally allowable income to qualify for affordable housing. Federal law prohibits the managers from barring hearing seniors who fit the economic parameters.
Whether the answer lies in policy or creative financing, these accessible complexes call attention to the specific needs of deaf residents. The relief these residents describe in finding safety and a social life demonstrates that housing is not just a shelter but a stepping-stone to general health. When designed with and for deaf residents, complexes like Henrietta present an opportunity to chip away at barriers to well-being.
Screenshot of DePaul Rochester View Apartments rendering/DePaul Properties