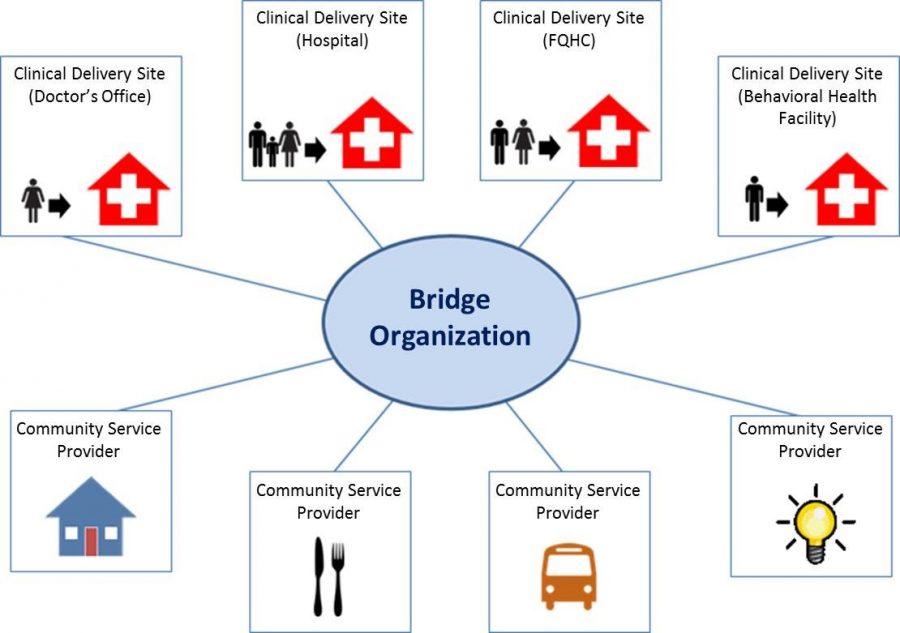 Fast Fact: CMMI is making $157M available through Accountable Health Communities for delivery of social services.
This blog series features "quick evidence bites" that highlight the connections between neighborhoods and health and the need for cross-sector solutions for sustained impacts. Tweet these facts and share your own @BHPNetwork #ZIPmatters
This Fast Fact is part of a series in partnership with the Georgia Health Policy Center (GHPC), the national coordinating center for Bridging for Health: Improving Community Health Through Innovations in Financing, sponsored by the Robert Wood Johnson Foundation.
Read the full Fast Facts series!
Fact
The Center for Medicare & Medicaid Innovation  (CMMI) is making $157 million in funding available as part of its Accountable Health Communities Model, which aims to bridge clinical care and the delivery of social services that may affect health care outcomes, including housing instability, food insecurity, transportation needs.
Summary
Housing instability, hunger, interpersonal violence, and transportation needs affect individuals' health, but they are not typically addressed during health care-related visits. Over time, though, these unmet social needs may increase the risk of developing chronic conditions and may reduce an individual's ability to manage these conditions. Ultimately, not helping a patient with these social services may result in avoidable illness, health care visits, and costs.
The Accountable Health Communities (AHC) Model aims to bridge clinical care and the delivery of social services that may affect health care outcomes, including housing instability, food insecurity, transportation needs. In January 2016, the Center for Medicare & Medicaid Innovation (CMMI) announced $157 million in funding to test the AHC model to determine whether screening for health-related social needs and helping patients access community-based services will improve quality and affordability of care provided by Medicare and Medicaid programs. This is the first model tested by CMMI to focus on the health-related social needs of patients served by Medicare and Medicaid.
CMMI is currently selecting the first of 44 "bridge organizations." The award recipients (bridging organizations) will serve as cross- coordinating hubs: identifying and partnering with clinical delivery sites; conducting social needs screenings; making referrals and coordinating connections to community service providers; and aligning partners to optimize community capacity to address health-related social needs. Additionally, the bridge organizations will all use a common, comprehensive screening assessment to identify unmet health-related social needs (housing instability and quality; food insecurity, utility needs, interpersonal violence, and transportation needs) among all Medicare and Medicaid patients seen at participating clinical delivery sites (e.g., hospital, primary care, and behavioral health services).
Efforts then center on coordinating and connecting at-risk beneficiaries with appropriate community service providers. Over five years CMMI will test a three-track model increasing alignment of services.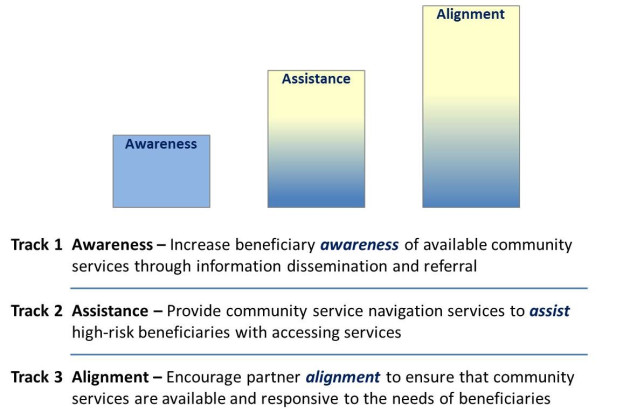 Source: Sanghavi D, Conway P. Can helping patients' social needs also be good for their health? The CMS Blog. January 11, 2016.
Read More: Washington State's Accountable Communities of Health
ACH participants generally include health and long-term services and supports providers, health insurers, public health agencies, school districts, criminal justice agencies, non-profit social service agencies, legal services organizations, tribes, and philanthropic agencies.
Better Health Together serves as lead for the Spokane region ACH, working across all sectors and all seven local counties. The strategic aim of the social determinants of health work group is to develop strong community systems that link the social determinants to health care to improve population health. As part of the Community Action Strategies Map the work group identified six target factors. They are developing plans for the 65-plus participating organizations to align to increase:
Access and placement to stable and safe housing
Opportunities to stabilize income
Access to transportation through innovative partnerships
Educational attainment
Access to healthy, affordable food
Community access to socially supportive peer groups.