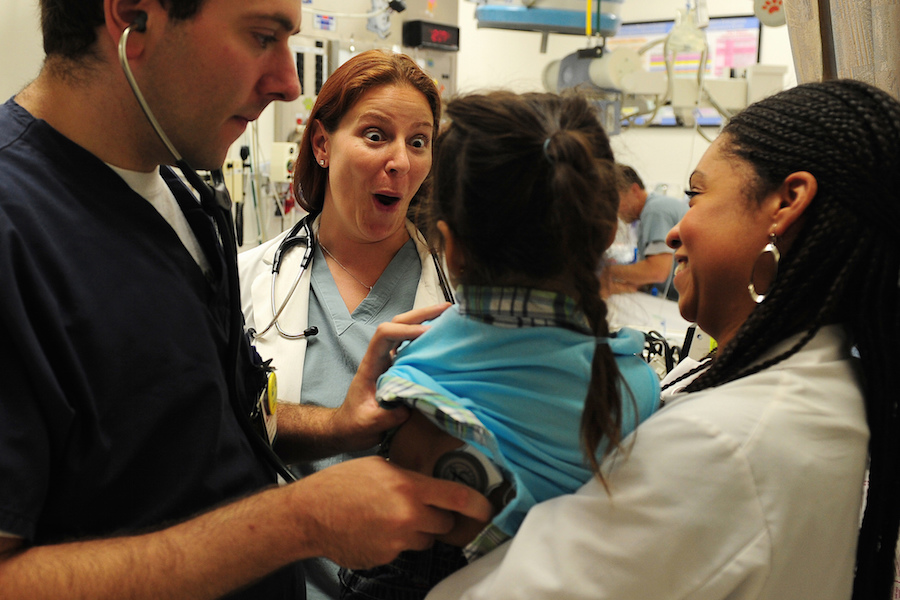 For These Doctors, Health is More Than Just Providing Medical Care
At #NetworkCommons, leading physicians and public health professionals discussed the imperative to work with community development practitioners to improve population health.
Where you live can have great impact on your health and well-being. On Oct. 20, four doctors immersed in public health issues discussed how the medical community can work beyond the walls of the community clinic to attack the root causes of poor health. Often, this work comes through partnerships with the community development sector.
The Network's Executive Director, Doug Jutte, M.D., M.P.H., moderated. He was joined this time by Lisa Chamberlain, M.D., M.P.H. (Stanford University School of Medicine); LaMar Hasbrouck, M.D., M.P.H. (National Association of County and City Health Officials); Pamela Riley, M.D., M.P.H. (The Commonwealth Fund); and Donald F. Schwarz, M.D., M.P.H., M.B.A. (Robert Wood Johnson Foundation).
Panelists shared powerful stories about patients whose lives had been profoundly impacted by their neighborhoods and a life of poverty. Those patients needed care that too often went beyond what physicians could provide in a clinical setting.
Riley recalled treating a child who came into her community health center with a cold. It was only as the patient was leaving the office that the child's mother asked if Riley could help her find a place to sleep that night. It turned out the family was homeless.
We need to think upstream and differently so we can improve health.
-Dr. Donald Schwarz
"Over time it became really frustrating and I wanted to do something on a policy level," Riley said.
Panelists said the current medical delivery system, which focuses on treatment instead of prevention, ends up costing providers and patients. "We need to think upstream and differently so we can improve health rather than just improving the problems that were created by our society in not investing," Schwarz said.
Some hospitals are taking the lead in providing more integrated services. Schwarz pointed to Children's Hospital of Philadelphia, which has invested in a new neighborhood family health center that is combined with a rec center and library. In addition to a health resource center, where they can receive health care referrals, residents will have access to a community storytime, a computer lab, and a playground.
Community investors need not start from scratch, Hasbrouck said. He emphasized the need for medical professionals to take an asset-based approach to their partnerships with community development specialists that leverages a community's existing resources.
Hasbrouck spoke about a partnership in Illinois between local health departments and retail pharmacies. Both the pharmacies and the health departments wanted to be the main providers of community immunizations, which can be a large revenue generator, and this was causing some conflict. But after sitting together, they agreed the pharmacies could continue to provide vaccines but would regularly refer patients to the health departments for more comprehensive care. The pharmacies, which were open later, also provided important coverage for the community when the health department was closed.
"The solution, as it often is, was building the relationship, having the conversation, seeing what the competing agendas are, and finding your way to some reciprocity in terms of benefiting the wellness of the entire community," Hasbrouck said.
Pay attention to what makes you angry. That's your issue choosing you.
-Dr. Lisa Chamberlain
The medical professionals said significant work remains when it comes to connecting health care providers and community practitioners. They cited the challenges of working with community-based organizations, many of which lack the infrastructure to collaborate with a large hospital system.
But panelists also described a shifting paradigm. The Affordable Care Act includes incentives for medical professionals to focus on preventive, place-based approaches, and medical schools are shifting to ensure doctors understand the role environment plays in shaping health.
Doctors and practitioners often ask Chamberlain where to start with community work. Her advice? "Pay attention to what makes you angry. That's your issue choosing you."
Watch the recording of the event on our YouTube channel and join the conversation by tweeting @BHPNetwork with the hashtag #NetworkCommons.
The Network Commons is a bimonthly series that was created in response to requests from colleagues (like you) who are eager to connect with like-minded leaders and practitioners nationwide. The commons aims to be a collegial space for reflection, as well as a spot to learn about cross-sector collaboration from field experts. Look out for our next conversation in early 2016.
Photo/UC Irvine