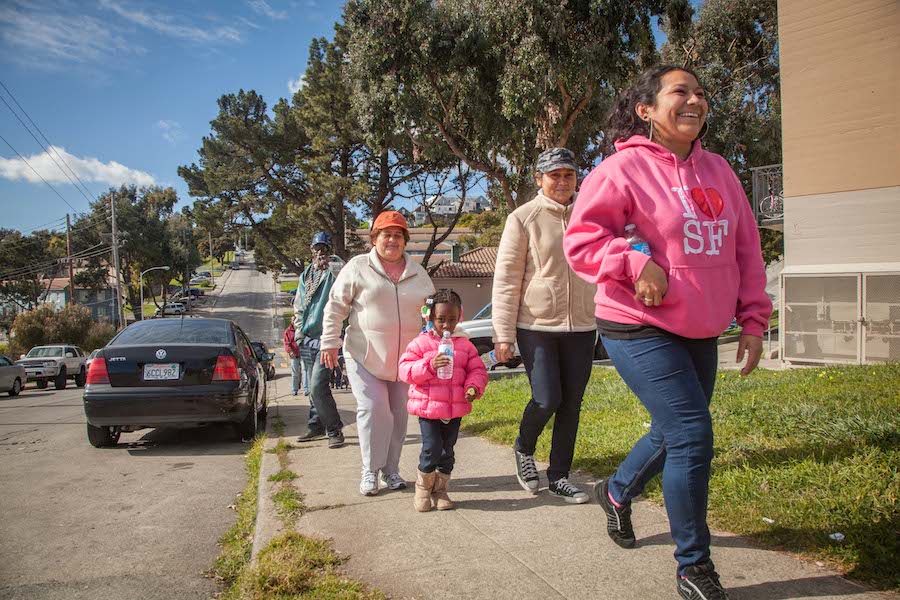 In San Francisco, Housing With a Healing Touch
It's common for federal housing and neighborhood revitalization projects to require resident involvement. That's because community members, of course, understand their own needs and circumstances better than anyone else. But for many affordable-housing residents—particularly those who have experienced trauma—community engagement can be challenging.
That's why a revitalization effort in San Francisco has implemented a Trauma Informed Community Building (TICB) model, designed to foster healing alongside housing.
The TICB approach was created in part by BRIDGE Housing Corporation, a nonprofit developer in California that is working to revitalize the Potrero Terrace and Annex housing developments. The site is a project of HOPE SF, a private-public partnership aimed at improving public housing in the city.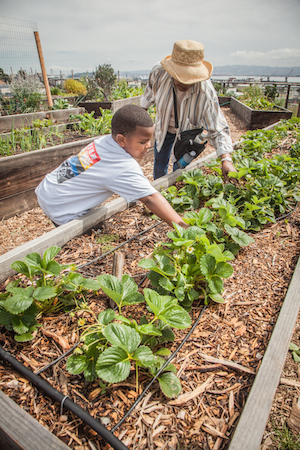 Home to more than 1,200 low-income residents, the Potrero complexes are deteriorating buildings from the 1940s. The isolated site is a stark contrast to adjacent Potrero Hill, an upper-middle-class neighborhood with expansive views. The HOPE SF project, which began in 2009, is rebuilding the existing affordable units and adding market-rate housing. The plan is to better incorporate the public housing into the community at large. To do so, HOPE SF relies on resident leadership and input.
As the developers have found, that is far from easy.
"Low-income and public-housing residents may experience cumulative trauma resulting from daily stressors of violence and concentrated poverty, as well as historic and structural conditions of racism and disenfranchisement," write Emily Weinstein, Jessica Wolin, and Sharon Rose in their 2014 paper on TICB.
Trauma harms communities by reducing their collective power and readiness for change. A common result of a traumatic experience is a lack of trust—both in one's neighbors and peers, and in authority figures.
"In communities with high rates of violence," the authors write, "many residents will not open their doors for strangers doing community-building outreach, or attend community-building events with other residents."
Another common challenge is cultivating sustained, long-term engagement in a project. Having faced systemic and economic barriers to progress in their own lives, residents may have trouble envisioning the future or believing that community work will result in any positive change.
The 2014 paper lays out examples of traditional "community building" exercises that may not work in populations like Potrero's. A community barbecue designed to improve social bonds among residents, for example, would be unappealing to neighbors who do not know or trust one another. A group-visioning workshop hosted by a developer or city official is unlikely to draw residents tired of unfulfilled promises. And generally, residents whose daily lives are dominated by stress, health concerns, financial anxiety, or violence are unlikely to put community activities high on their to-do lists.
Engaging residents takes creativity. For example, community outreach organizers are often taught the "one touch, one ask" method. That is, don't continue to pester residents about an upcoming meeting after you've already left a flier in their mailboxes. In a community like Potrero, however, a single solicitation is likely not enough.
"To walk with other people through the neighborhood is another kind of health."
With Potrero, the team offered gift cards as incentives for participating in community building, and regularly scheduled meetings provided a sense of structure and stability. The activities run the gamut, but are all designed to foster health and well-being, safety, and social cohesion.
A walking club, for example, provides residents with a safe, noncompetitive opportunity to get physical exercise and build relationships with their neighbors. One participant from the greater Potrero Hill area said: "To walk with other people through the neighborhood is another kind of health. It's creating health in the community." In an evaluation, walkers reported that the size of the group creates a "zone of safety" as they traverse streets that would otherwise feel dangerous.
The evaluation report (summarized in this infographic) by HOPE SF and the Annie E. Casey Foundation found that participation among both public housing residents and the Potrero Hill neighbors increased after TICB methods were put in place. One resident who was interviewed spoke to the power of consistent group activities—like gardening and exercise classes—to chip away at divisions in the community.
"Before, the people were first coming and they were very upset a lot at each other," the public-housing tenant said. "After day by day, month by month, year by year, they seem a lot better because I think we always see each other."
Cultivating this sense of safety and social cohesion is critical to improving community mental health and wellbeing. A thoughtfully designed built environment can pave the way for better health outcomes. But TICB projects like Potrero go a step further, meeting residents where they're at and empowering them to make positive changes in their own community.
Stay tuned for our Community Close Up featuring Potrero.
Photos/Clark Mishler, BRIDGE Housing