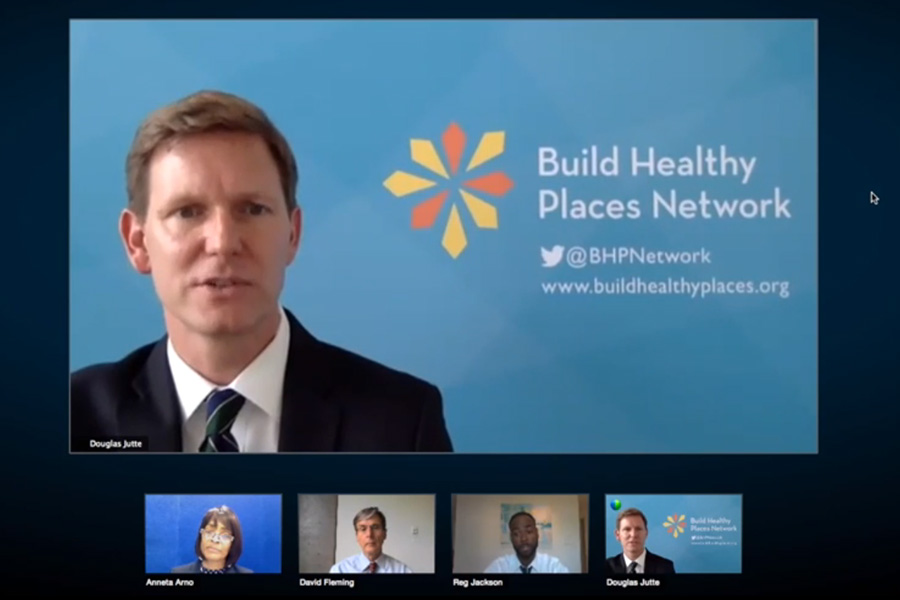 Join us for the August 20 #NetworkCommons: Public Health's "Aha" Moments at 12pm PT/3pm ET
Anneta Arno                         David Fleming                      Reginauld Jackson              Doug Jutte
Ph.D., MPH                          MD                                       DrPH                                   MD, MPH
Build Healthy Places Network hosts its second event in the #NetworkCommons series, a bimonthly live discussion aimed at connecting community development and health leaders working in low-income communities. Through real-time conversation, we feature leaders who share their insights and strategies on effective cross-sector collaboration.
In June, we hosted a virtual gathering of some of the most prominent leaders on the community development scene. They shared with us their aha moments—how and when they realized their work had broader implications for health and well-being. We recorded the illuminating conversation and recapped the event on our blog.
This time, on August 20, we will turn to leaders from the public health sector. They will share their own aha moments, recounting their realization that place, neighborhood, and community development play a critical role in improving health outcomes. We are expecting a candid conversation about the changes the public health sector is undergoing, and plan to discuss the first steps practitioners can take to spark cross-sector collaboration. Join us!
The Network's Executive Director Doug Jutte, MD, MPH will moderate, joined by Anneta Arno, Ph.D., MPH (Health Department of Kansas City), David Fleming, MD (PATH, formerly Seattle and King County Public Health), and Reginauld Jackson, DrPH (Public Health Institute). Register below and help us by spreading the word to your colleagues.
It's easy to attend #NetworkCommons, even if you've never been to a live online discussion. Here's how:
Register here. After registering, login information will be sent via email.
Log in on August 20 from 12-1 pm PT/3-4 pm ET. The conversations will also be archived on our site if you are not able to catch it live.
Join the conversation before, during, or after the event on Twitter by using the hashtag #NetworkCommons.