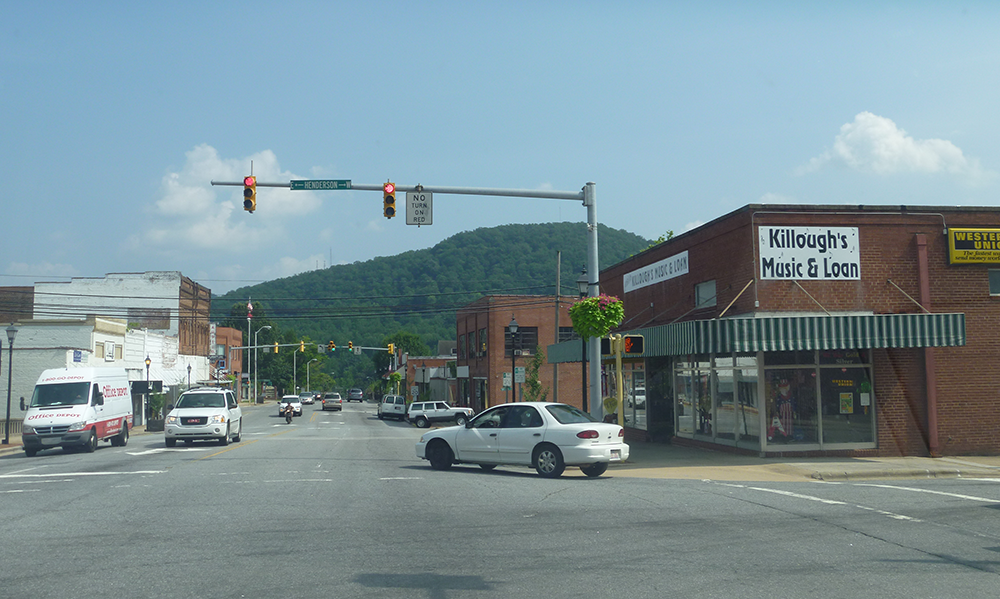 Partnering for a Healthier WorkFORCE
A rural approach to wellness in McDowell County, NC.
At the foothills of the Appalachian Mountains in western North Carolina, McDowell County is a place of natural beauty and caring neighbors. Although healthcare is one of the county's largest industries, history has not been kind to the overall health of people who live here. Factors like loss of manufacturing jobs, unhealthy behaviors like smoking, and the county's rural geography – which makes access to healthcare and other support services difficult – all create challenges to a healthy population. Despite poor health outcomes and shifts in employment opportunities, residents are working together to improve the county's health and create living wage job opportunities. For community leaders, there is a clear connection between a healthy workforce and the goal improving health outcomes.
An opportunity to move the needle on health came to McDowell County in the form of a commitment to invest in community-identified health solutions. The Kate B. Reynolds Charitable Trust's Healthy Places North Carolina is a place-based initiative aimed at improving the health and overall quality of life for people in rural areas of North Carolina. This initiative provided the initial seed money and fed the energy that birthed the Work Forming Organizational Resources and Cultivating Employee (WorkFORCE) Wellness project.
An Innovative Solution
The community identified a need for worksite health promotions, and the WorkFORCE Wellness project responded. Our program invests in the health of employees, the bottom line of employers, and the economic development of the region.
When we go into a worksite, we do an assessment of strengths and challenges, look at their CDC's Worksite Health Score, and analyze what each company spends in employee turnover, health insurance, and absenteeism. From there, a Wellness Committee composed of both employees and management is formed. The Wellness Committee functions as an idea generator, acts as a decision-maker, and implements wellness programming.
WorkFORCE Wellness offers a suite of health-related products and solutions, including a roving Community Care Paramedic to deliver mobile health care, a case manager to serve as the community compass and point employees in the direction of needed resources, an organization assessment of onboarding and hiring to maximize the potential success of incoming employees, and financial advice to help employers invest smartly in their employees' health. These programs are already available in the county, but may not be getting to the people who need them most.
Our program also acts as the conduit for other pre-existing programs in the community that may benefit employees. The strength of this solution is that it works to maximize the effectiveness of established, innovative programs. The services offered have been vetted to ensure cultural competency, and the WorkFORCE coordinator works to ensure that trusting relationships are built and maintained to meet the evolving needs of employers and employees.
Designing for the long-term
Sustainability is critical to the success of WorkFORCE Wellness. So, our initial partners sites are working hand-in-hand with Rural Support Partners to build out the pilot project as a regionally-based social enterprise, utilizing employers' cost-savings to help subsidize the overall cost of a tailorable and needed service. WorkFORCE Wellness will calculate the cost of services provided and the production time saved by offering them on site. By partnering and building the capacity for expansion, WorkFORCE Wellness is laying the groundwork to turn the curb on multiple barriers to good health.
Partnering for Success
The initial success and thirst for bigger approaches is due to the strengths of McDowell County. Folks here have a desire to collaborate. City and County government officials, employers/employees, and program providers have been included in the design, initial studies, and sustainability discussions since the beginning.
The program has offered an inroad to an enormous untapped population for other programs that are funded by Kate B. Reynolds Trust and supported by Rural Support Partners. CareNet Counseling has found new clients and an additional revenue stream to support their sustainability. McDowell Access to Care and Health has assisted numerous small businesses to offer them primary medical homes and access to support services. The McDowell EMS Community Care Paramedic Program sees this as not only an opportunity to diversify their revenue streams, cut down on transportation and ER costs, and greatly impact the bottom line for employers, but as a great opportunity to make sure the blue-collar workers of McDowell County are taken care of and get the care they need.
Early successes and cost-savings by employers have helped to increase the buy-in and interest in investing in this model. The success of WorkFORCE Wellness is truly in the partnerships that have been cultivated to provide access where people are. WorkForce Wellness brokers the innovative approaches this rural county has invested in to bring health to where people need it most, creating a new landscape for how health and economic development can work hand in hand.
[Header photo from Flickr, Downtown Marion NC by Steve "Rusty" Rust]