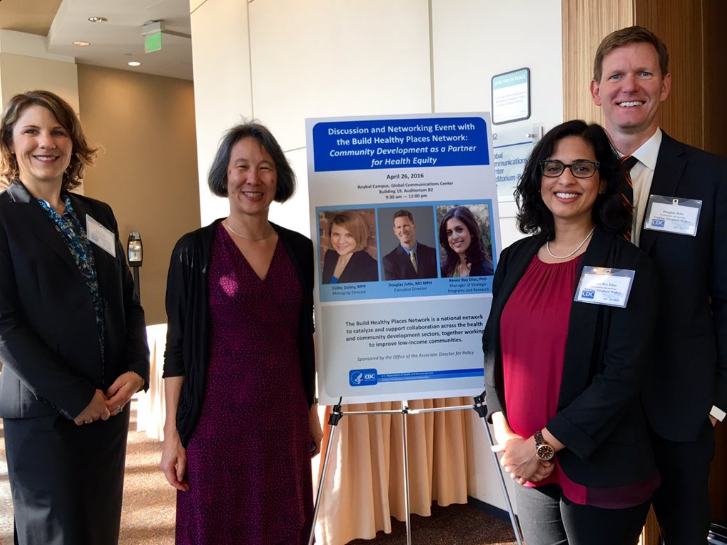 Dispatches: Renee Roy Elias on Engaging the Centers for Disease Control and Prevention
Our team is regularly on the road, hearing and learning about how community development and public health are joining forces. In this occasional series, we report on what we are discovering to help you stay on top of the cutting-edge policies, tools, and projects in the fields. Renee Roy Elias, the Network's Manager of Strategic Programs and Research, caught us up on her recent trip to the Centers for Disease Control and Prevention in Atlanta, GA.

Read the full Dispatches series!
What meeting did you attend?
The Network was invited to a day-long visit with core staff members at the Centers for Disease Control and Prevention in Atlanta, Georgia. The day began with a "Community Development 101″ presentation. With Network directors Colby Dailey and Doug Jutte, I presented to nearly 40 CDC staff members spanning multiple divisions. The goals of the presentation were three-fold: 1) to provide CDC staff with an overview of the community development sector, 2) to highlight how public health and the CDC can leverage the community development sector, and 3) to explore how the Network can serve as a connector for the CDC.
The presentation was extremely well-received and CDC staff members asked some great questions! Key topics of discussion included common indicators/metrics, how community development projects are implemented on the ground, and how cross-sector efforts can be institutionalized– all core areas of focus for the Network moving forward. And to our excitement, a CDC staff member even suggested creating a Community Development Work Group within the CDC! It was truly a successful meeting.

After the initial presentation, we presented similar topics to different groups at the CDC including the Healthy Community Design Initiative, the Built Environment Work group, and the Community Guide. Each of these groups focuses on the impact of social determinants of health on community health and well-being.
Did you meet anyone new?
Denise Koo, Advisor to the Associate Director of Policy, was our host for the first part of the day. Denise is one of the leaders of the CDC's Community Health Improvement Navigator (CHI Nav) and has increasingly emphasized cross-sector collaboration in her own work spanning the public health and healthcare sectors.

We also spoke with John Auerbach, Associate Director of Policy (also a Network steering committee member) and some of his senior staff including Von Nguyen, Deputy Director of the Office of the Associate Director of Policy. We had a great conversation about health metrics as well as East Lake, a Purpose Built Communities site right in the CDC's backyard! East Lake is a well-established neighborhood revitalization effort that has anecdotally showed improved health outcomes among residents. We discussed ways that this site might serve as a natural experiment for actually showing the true health value of community development. For us, the conversation reinforced our growing sense that the public health sector truly plays an important role in regards to metrics and measuring impact.
Finally, we met a number of CDC staff experienced in healthy community design and metrics as part of our afternoon breakout session. This includes Arthur Wendel, Chair of the CDC's Built Environment Working Group and also Medical Officer for the Seattle region of the Agency for Toxic Substances and Disease Registry. We were excited to hear that as a result of our conversation, Dr. Wendel connected with his local CDFI to discuss their shared interests!
What can community development learn from public health when it comes to using metrics?
Community development has already learned the importance of measurement from the public health sector but now they actually have to do the measurement itself – which is the biggest hurdle. Even though most neighborhood-level data aren't available yet, the public health sector offers technical expertise in data collection and measurement which can be daunting for community development practitioners. Thankfully, progress is being made on that front. More neighborhood-level data is now being gathered through cross-sector efforts. Some examples that we shared with CDC staff include: the Seattle/King County Communities of Opportunity project, the San Pablo Corridor project in Oakland, California, and the Vita Health and Wellness District in Stamford, Connecticut. And significantly, CDC is part of these efforts as well through the 500 Cities Project, a partnership with the CDC Foundation and the Robert Wood Johnson Foundation which will result in the release of census tract-level data for 500 cities later this fall.

What were three key things you learned while visiting the CDC?
Public health is truly poised to leverage community development. With the Affordable Care Act's (ACA) community benefit requirements, non-profit hospitals must do Community Health Needs Assessments (CHNAs) every three years. Meanwhile, city/county public health departments must complete Community Health Assessments (CHAs) every five years as part of the accreditation process. It is widely known that this is a key leverage point for collaboration. But our trip reinforced the role of ACA in elevating the field of public health, and the system-wide benefits possible through greater coordination across sectors.


Measurement is key in the path forward. It is a fairly new concept for the community development sector but this trip reinforced for me how public health has always been in this frame of thinking. And the trip also reinforced the urgent need for shared measurement strategies in order to think about neighborhood level health metrics. Measurement is critical to not only understand the impact of a project but to understand its health impact over time and to spur investment.

The fact that community development is increasingly part of the CDC's vocabulary is significant. As the nation's premiere public health institution, the CDC has an important leadership role in forwarding this movement of cross sector collaboration – both through their investments in public health departments and through their programs to support local communities.
How does the work of the CDC reflect the movement of cross sector collaboration?
Clearly, CDC recognizes the important role of community development in efforts to improve population health as represented by its many programs focused on the built environment, shared measurement, and health equity. But as we learned from various conversations with CDC staff, further action is necessary to institutionalize cross-sector collaboration across the community development, public health, and healthcare sectors agency-wide. Promising first steps are the CHI Navigator and the Practical Playbook (which you can find on MeasureUp!)–both tools to support cross-sector efforts on a local level. As a result of our trip, we hope that the Network can continue to support these and future efforts.