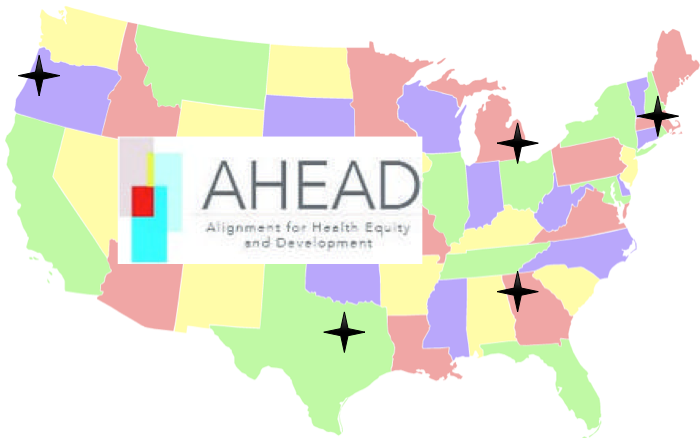 Three Key Takeaways from the Alignment of Health and Community Development (AHEAD) Initiative
We know that cities across the country are grappling with deep inequities in health and well-being. We also know that the Affordable Care Act is changing the way that hospitals deliver health care services and think about their role in improving health. And there is a growing recognition that neighborhood factors have a profound impact on a person's health and well-being.
We are in an unprecedented moment in time, where hospitals' financial incentives are shifting toward prevention, the community development sector is better understanding the health value of its work, and public health departments and communities are working hard to reduce inequities by addressing social determinants of health . This unique window that we're in is evidenced by conversations in nearly two-dozen Healthy Communities Initiative meetings held at regional Federal Reserve banks around the country and co-sponsored by the Robert Wood Johnson Foundation.
Launched in November, 2014 with the generous support of The Kresge Foundation, the AHEAD Initiative is a program of the Public Health Institute in Oakland in partnership with The Reinvestment Fund in Philadelphia. AHEAD seeks to reduce health inequities, partnering with local and regional stakeholders in five US cities to improve health by focusing new investment streams toward upstream interventions that address social, economic and community conditions—ensuring that community investments are smarter, more strategic, more aligned, and more effective.
Working with a regional health council and a local community development corporation in Detroit and four fellow public health institutes with a track record in population health and intersectoral collaboration (Georgia Health Policy Center, Health Resources in Action in Massachusetts, Texas Health Institute, and the Oregon Public Health Institute), AHEAD established three core criteria for selecting communities of focus in five cities:
The prospective community is faced with social, economic, and health inequities that can be mapped and validated with GIS technology.
There are local conditions (e.g., properly zoned land, transit-oriented development) that offer opportunities for near term community development investments.
There is evidence of cohesion and capacity among community stakeholders to play a key role in designing and implementing a shared strategy.
The concept of "convergence," as defined in the AHEAD initiative, demands a more rigorous approach to collaboration, as defined by Arthur Himmelman, where stakeholders share risks, responsibilities, resources, and rewards with mutual respect, learning and accountability for results.
In the selected communities of each of the five pilot cities (Atlanta, Boston, Dallas, Detroit, and Portland), local partners are designing strategies to align health care and broader health sector services and programs with specific community development investment opportunities. The concept of "convergence," as defined in the AHEAD initiative, demands a more rigorous approach to collaboration, as defined by Arthur Himmelman, where stakeholders share risks, responsibilities, resources, and rewards with mutual respect, learning and accountability for results.
This approach isn't just about measuring the health impacts of community development transactions, nor is it just about leveraging Community Development Financial Institutions' (CDFIs) sources of capital with infusions of investment from the health care sector. It involves a commitment to consider new ways to organize and configure roles and contributions by organizations, groups, and individuals that best leverage the time, treasure, and talent of all stakeholders. Taking this approach requires proactive and in depth analysis of what is already in play on the ground, and a willingness by larger institutions to give more explicit focus to smaller geographic areas where economic, social, and health inequities are concentrated.
Three Lessons from AHEAD:
Neighborhood development within a regional frame
AHEAD cities engaged regional intermediaries to facilitate intersectoral engagement, and to inform the selection of a "Community Quarterback" or backbone organization.
In Atlanta, the Georgia Health Policy Center connected AHEAD efforts with the larger Atlanta Regional Collaborative for Health Improvement (ARCHI) process to identify the Atlanta region's City of East Point. AHEAD efforts leveraged ongoing efforts engaging municipal leadership and intersecting with the regional transportation planning process.
In Detroit, AHEAD engaged with both the Joy-Southfield Community Development Corporation (JSCDC) and the Greater Detroit Area Health Council. This allowed for a deeper focus on the identified neighborhood, Cody Rouge, which is served by JSCDC while providing access to a much more regional array of health sector leaders and employers.
That said, it is important to proactively identify priorities and existing initiatives at the regional level.  For example, we learned that the Develop Detroit initiative was already at work in four other Detroit neighborhoods outside of Cody Rouge when we were connected with their leadership. AHEAD stakeholders and Develop Detroit leadership are exploring ways to bolster each other's efforts.
Engaging hospital leadership is critical
Hospital leadership must be fully engaged in the convergence process to ensure timely decision making, financial support, and alignment with the core business strategy of the organization.
In Portland, the Oregon Public Health Institute leveraged prior working relationships with the senior leadership of health systems and health plans to secure early financial contributions and engagement.
In all sites, however, senior leadership delegated representation to community benefit staff. These individuals possess the knowledge base and experience to meaningfully engage local stakeholders, but often have limited connections to senior leadership and in depth knowledge of core business strategies. In order to take optimal advantage of staff community knowledge, other intermediaries seeking to support convergence strategies need strong relationships with hospital leadership and the ability to secure their commitment to remain engaged in the process.
Coordinate local efforts where possible – including philanthropy
Getting buy-in from local foundations and other funders is an important strategy for coordinating and sustaining cross-sector efforts. In each of the five sites, AHEAD supported local intermediaries in outreach to local and regional foundations early in the process. For example, in Portland, the Meyer Family Foundation was engaged through a targeted, small contribution that encouraged streamlined systems and built on existing resources in the Powellhurst-Gilbert neighborhood of East Portland.
But engaging local philanthropy is not always easy. At AHEAD, we found it difficult in some cases to get foundations to respond to event invitations or even basic inquiries. In one case, we learned late in the process that one foundation had not responded because it was planning a similar project in the same community!
Building on Small Successes
All five AHEAD sites are still in the early stages of their journey to secure formal commitments for one or more community development investments that are supported by a spectrum of linked services and activities. In the meantime, each site is making optimal use of the specific data and information collected by intermediaries and examined in regular meetings of the convergence working groups. Many have noted that the basic framing of AHEAD has opened discussions and opportunities that were not considered previously. While larger scale convergence strategies are still under development, a variety of smaller scale linkages are being established along the way.
In addition, a number of sites have leveraged their participation in AHEAD to secure new funding and build new relationships. Oregon Public Health Institute and the Portland site secured support to expand their work through the BUILD Health Challenge. Our South Dallas site, with the support of Texas Health Institute as the intermediary, has built close working relationships with Frazier Revitalization, Inc., one of 13 sites in the Partners in Progress initiative, and Children's Medical Center, part of the Moving Health Care Upstream initiative.
Connecting these and other dots are important steps to build the critical mass needed to improve health and well-being in communities that have been neglected far too long. We owe it to ourselves and our communities to continue this important work.