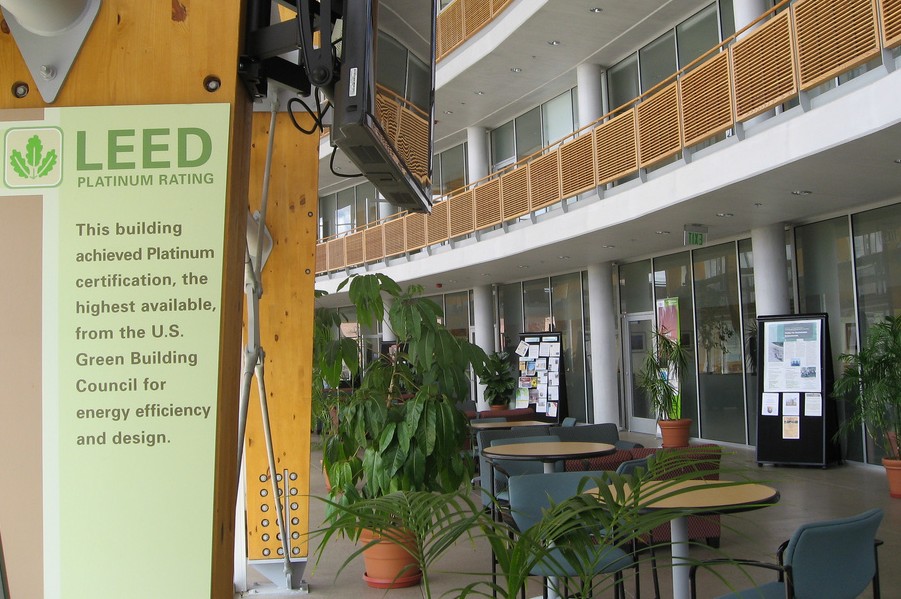 Using the LEED Approach to Encourage Healthier Building Designs
LEED certification changed how the real estate industry thought about environmental sustainability. Now, researchers think we need the same thing for promoting health.
In the spring of 1993, representatives from about 60 architecture firms and nonprofits got together to envision a green-building rating system that would span the entire industry.
Twenty-three years later, the Leadership in Energy and Environmental Design green-building certification system—you know it as LEED—has recognized 33,000 residential, commercial, and industrial buildings as environmentally sustainable. Based on rigorous standards from the U.S. Green Building Council (USGBC), homes, office spaces, and commercial buildings can achieve four levels of certification—from simply being certified to attaining silver, gold, or platinum levels. Among its benefits, LEED certification increases building values and attracts tenants more quickly because of lower energy costs, better indoor environmental quality, and efficient water usage.
Now, researchers and public health experts are contemplating how to evaluate buildings' impacts on people's health in a similar way.
Researchers and public health experts are contemplating how to evaluate buildings' impacts on people's health.
"The green building industry has been so successful in taking the idea of sustainability and making it really matter for the real estate industry," says Matt Trowbridge, a physician and public health researcher at the University of Virginia School of Medicine, in this video from USGBC. "We really want to do the same thing in public health."
Last summer, the Robert Wood Johnson Foundation awarded Trowbridge and his research partner, Chris Pyke, from the U.S. Green Building Council, a $1.2 million grant for a "green health" partnership. The goal is to build a framework for certification that would apply to buildings that promote and protect health and well-being.
The partnership is not looking to develop a new, separate certification system for health-focused buildings. Instead, the new metrics would likely leverage existing green-building certifications like LEED. Real estate developers are already familiar with the LEED framework and have established that being certified can increase property values. And USGBC also has a LEED rating system for neighborhood development projects, which combine residential and non-residential uses.
So why now? Trowbridge says there is a push in the public health field for the kind of evaluation tools and measurements that the green health partnership is trying to build.
As Trowbridge and his co-authors describe in a 2014 Health Affairs article, public health practitioners understand how the neighborhoods where people live, work, learn, and play influence their health. Yet there are few incentives for taking health into account when building housing or planning communities. Trowbridge cites research showing that health disparities in metro areas do not stem solely from individuals' socioeconomic factors. They also reflect the disparity in neighborhood access to fresh food, medical services, transit, places to exercise, and other resources. Separate research has found a multitude of ways the built environment affects health, for example, trees are associated with greater mental health, and building materials can trigger asthma attacks that keep kids home from school, and impact families' work schedules.
In the real estate industry, however, such factors are largely dismissed as "economic externalities" that are both unmeasured and unregulated. And, as the Health Affairs article puts it, "for the most part, unconsidered."
Though Trowbridge and his colleagues at USGBC want that to change, it is no easy feat. People in the real estate industry and the public health field speak different languages and, of course, have different goals. While financial return is key for real estate developers, most research on health and the built environment doesn't measure any financial benefit to investors. To make the new metrics a reality, they would have to be practical, valuable, and integrated into the green-building tools that already have an established value in the market. The partnership plans to introduce health-focused community development metrics into the existing education and LEED accreditation system that the green-building industry has in place for real estate professionals, according to the Health Affairs article.
"In green building, we now have a very mature set of best practices and metrics that help define, incentivize, and give us credit for when we do great things," Trowbridge said. "We need the same thing for health."
And as Trowbridge explained in an interview after being awarded the RWJF grant, the idea of building with health in mind won't make a big impact on population health until it achieves a national scale. That sounds daunting, considering that the framework doesn't fully exist yet.
But 23 years ago, neither did LEED. It goes to show that with system-wide efforts, cutting-edge practices can become the new norm.