The Health Action Plan fosters relationship and trust between residents and affordable housing operators, essential to this, is the public health partner who translates health priorities into a practical strategy for implementing health promoting design, programs, and services.  
The Health Action Plan, a practice to bring together affordable housing owners and public health partners to analyze health data, engage with community, and co-develop a plan where health and wellbeing are prioritized in affordable housing.
A doctor only writes a prescription after seeing their patient, learning their medical history and understanding their specific needs. Housing owners and operators can approach their selection of healthy building strategies, services, and partnerships in the same way.
The Health Action Plan was created to support affordable housing developers in doing just that, by integrating evidence-based public health practices into the affordable housing development process. The Health Action Plan is a seven-step process detailed in the figure below.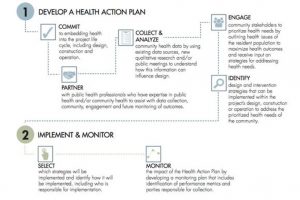 Investing to Preserve Affordable Homes While Advancing Health
Study after study shows that living in a quality, affordable home in a healthy community is a critical social driver of health. In January 2019, Kaiser Permanente and Enterprise launched the Housing for Health Fund to support qualified developers preserve affordable homes that also promote health in California's Bay Area. With the support of investments from Kaiser Permanente and from JPMorgan Chase, more than $85 million has been used to preserve affordability in 18 properties with over 1,200 affordable homes.
In addition to keeping homes affordable for Bay Area families, the Housing for Health Fund housing owners and operators conduct a Health Action Plan and annual resident survey to assess health and develop a plan to promote health through modifications to property, programming, and resource and partner connections. Enterprise monitors the impact of the fund over time, analyzing the Health Action Plans, resident surveys, and organizational impact. In 2023, initial findings based on data, reporting, and interviews collected between 2020 – 2022 and focusing on nine properties in Northern California, show:
The process of conducting a Health Action Plan helps new owners develop and deepen their relationships with their residents early on.
While most residents rated their health status as good, the most common health needs were mental health, chronic disease management, and asthma and respiratory health.
The Health Action Plan combined with surveys creates a roadmap and feedback loop, tailored to the residents for each property, to promote health over time.
The fund's model deepens organizational practices of resident engagement and health promotion through affordable housing.
Thus far, this work has led to the adoption of 42 health-promoting strategies generated through conducting a Health Action Plan. The most common strategies center on group programming, connecting residents with resources, and implementing building or property modifications targeting health needs. For example, one property prioritized safety and social connectivity as part of their Health Action Plan to support residents' mental health. They improved the exterior lighting on the property, created community murals, installed new gates, and enhanced community gathering areas.
Expanding the Understanding and Use of the Health Action Plan
The impact of the steps of the Health Action Plan extend far beyond the strategies that are selected and include relationship development, changes in organizational practices around health and resident engagement, and a deepened understanding of the ways a home can be a catalyst for health by practitioners.
Health Action Plans have been developed for over 30 affordable housing developments across the country. Health Action Plans have been implemented in new multi-family developments, building rehabs and updates, and to inform resident services plans. Starting in September 2023, Enterprise will be working with a group of affordable housing developers to apply the Health Action Plan to single-family home repair through the Thome Aging Well program.
To support practitioners interested in implementing a Health Action Plan, Enterprise offers a suite of resources to support each step. These tools were developed in response to needs shared by a group of 35 practitioners that Enterprise convened with the support of the Health Impact Project, a collaboration between the Robert Wood Johnson Foundation and Pew Charitable Trusts, in 2020.
Suite of Resources
Advancing Public Health Through the Health Action Plan
The Health Action Plan serves as a model for innovative collaboration between the affordable housing and public health fields. By integrating public health best-practices in the affordable housing development, rehab, or operational processes, it goes beyond the traditional approach and creates benefit for both sectors. This unique process, cultivates relationships between housing operators and residents, creating trust and engagement that has been proven as essential for health promotion and community well-being. Public health professionals can draw on this practice to both illustrate the critical role of housing to public health, while also illustrating a way to work collaboratively with other sectors to impact community wellbeing.