This interview is part of Build Healthy Places Network's new Video Snapshot Series, a series of quick deep dives with experts from the community development, health, and finance sectors.
The COVID-19 pandemic continues to illustrate the stark connections between wealth and health. This is especially apparent in historically redlined neighborhoods that endure a higher prevalence of COVID-19 risk factors. Hospitals and banks have analogous mandates to community commitment, including addressing health and wealth disparities that are ever more evident during COVID. 
Renae A. Badruzzaman, Program Manager at Build Healthy Places Network, interviews Karen Kali, Senior Program Manager at National Community Reinvestment Coalition, about the opportunities the Community Reinvestment Act (CRA) provides for banks, hospitals, and community development practitioners to work in tandem to tackle health and wealth inequities. The two discuss The Federal Reserve Board's open comment period for an Advanced Notice of Proposed Rulemaking (ANPR) and how, if the rule is implemented, will likely encourage innovative projects that can leverage bank CRA investments to promote healthy communities and lead to better health outcomes.
Watch the Interview: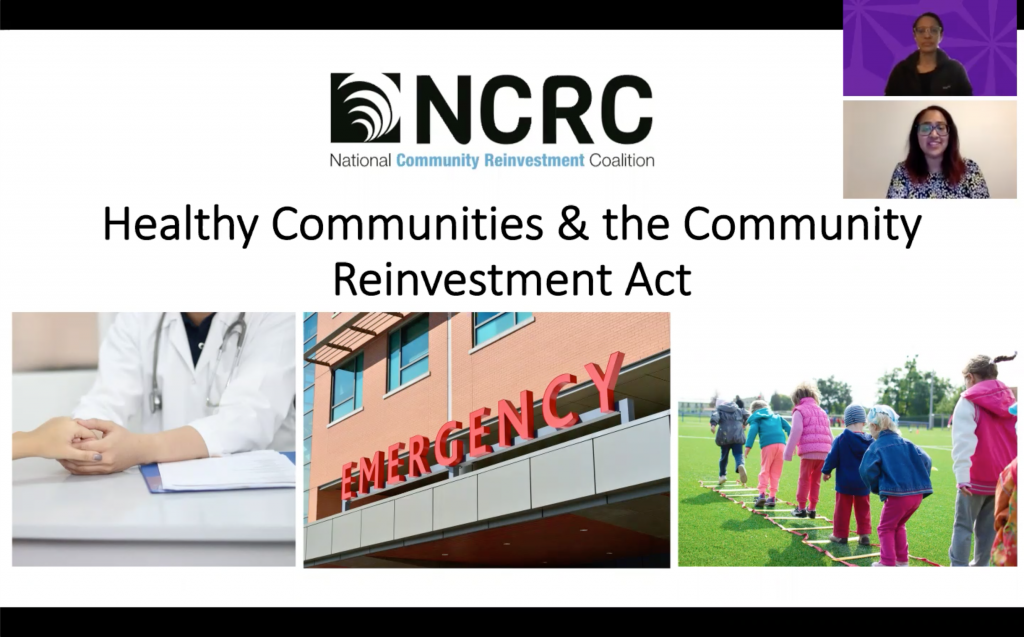 Learn more:
Report: CRA's First Aid Kit: Tools And Resources For Hospitals, Health Systems And Medical Professionals To Support CRA Modernization
Report: NCRC Initial Analysis Of Federal Reserve's ANPR On The Community Reinvestment Act: A Step Forward But Needs To Be More Rigorous
Take Action: February 16, 2021 is the deadline for The Federal Reserve Board's open comment period for the Advanced Notice of Proposed Rulemaking (ANPR). See sample letters and the qualified lending report tool to help you take action now.