Watch the recording of the Build Healthy Places Network's and NACEDA's joint webinar, Partnering with Healthcare to Create Career Pathways.
The webinar, which aired on April 21, explored how community economic development organizations can partner with healthcare institutions to create career pathways in low-income and BIPOC communities. It brought together inspiring leaders whose work is showcased in the Community Economic Development & Healthcare Playbook. The audience learned from local leaders about cross-sector partnerships to create training opportunities, how to form career pathways, and leverage assets from health institutions.
Watch the Event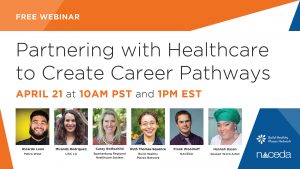 Featured speakers included:
Carey Rothschild, Spartanburg Regional Healthcare System
Ricardo Leon, Metro West Community Development Organization
Miranda Rodriguez, Local Initiatives Support Corporation LA
Hannah Hasan, Spoken Word Artist, Epoch Tribe
Moderators: 
Ruth Thomas-Squance, Build Healthy Places Network
Frank Woodruff, NACEDA
Additional Resources:
Learn more about how to partner with health institutions to create career pathways in your community by reading the Community Economic Development and Healthcare Playbook, an action-oriented guide to help improve economic mobility and health in neighborhoods.
Check out a poem performed by Hannah Hasan: Healing Happens in Community, a poem created for the Partnering with Healthcare to Create Career Pathways webinar.