Overview
Dorchester is the largest and one of the most diverse neighborhoods in Boston, MA. Fields Corner, Dorchester's main commercial district, is a close-knit community made up of Vietnamese, African American, Latin, Irish, and Cape Verdean residents and businesses. The area boasts several amenities, including a Massachusetts Bay Transportation Authority (MBTA) Red Line station. It is also home to many community organizations committed to supporting the neighborhood and its residents. 
TLee Development is a real estate development firm located in Dorchester. Aligned with the Dorchester tradition of strong community ties, the organization uses a place-based approach in its work that is rooted in "deep collaboration with residents, community-based organizations, local business owners, public agencies, and mission-driven investors."  TLee Development's portfolio boasts the creation of affordable housing, commercial space, and small business development, and it supports economic opportunity through a match savings program and workforce development. 
The TLee Development office is across the street from 1463 Dorchester Avenue. In 2016, rather than continue to walk past the location, Travis Lee, a Dorchester resident and the founder and owner of TLee Development, decided to knock on the door of the business formerly located on the site. Situated next to a MBTA Red Line stop, the business was in a prime, walkable location, and Lee saw an opportunity for the neighborhood and its residents. He told the business owner that when he was ready to sell, TLee Development would like to buy the land and build something the neighborhood could be proud of. Five years later, the land was sold to TLee Development. With a $1.35 million investment from the Healthy Neighborhood Equity Fund II (HNEF II), the property will include affordable rental housing with retail space occupied by local business owners.
Project Details
Real Estate Developer: TLee Development, LLC
Project Components: Includes 29 workforce rental housing units and 1,300 square feet of ground floor retail space. Located within walking distance of public transit, public parks, and restaurants, among other community amenities. Incorporates several energy-efficient features, including rooftop solar PV system, which will supply 100% of the common area electric load.
Project Scale: $9.7 million in development costs, with a $1.35 million investment from HNEF II
Project Status: Opening August 2023
The HealthScore and Inclusive Community Development
All HNEF II investments receive a HealthScore, the impact scorecard process HNEF uses to determine if a development has the potential to yield positive health impacts for a community. 1463 Dorchester Avenue received a score of 81.48 , a very high impact rating, due in part to its proximity to several amenities and the building's energy-efficient and climate-resilient attributes. Additionally, TLee Development incorporated the community's vision and priorities in the development process while offering residents an ownership opportunity in the building. The development is also designed to provide much-needed workforce housing in a neighborhood experiencing significant gentrification pressures. 
1463 Dorchester Avenue HealthScore Breakdown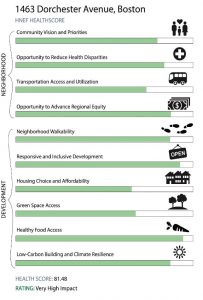 Before TLee Development purchased the building, the developer organized public meetings with residents and community leaders to identify the best use of the site. The process entailed three community gatherings where the developer proposed sketches with several options for a four-story building. When TLee solicited feedback, several community members suggested a four-story building would be poor stewardship of the site. TLee Development returned one month later with a proposal for a five-story building, and over 60% of the meeting attendees voted for the rental units. The inclusive process also helped garner support from local institutions such as Fields Corner Civic Association, the Mayor's Office, and City Councilor Frank Baker.
Next, TLee Development recruited nine resident volunteers to serve on an advisory committee. The committee's leadership included decision-making on everything from rent rates and unit sizes to designing an ownership opportunity for Dorchester residents. Residents could invest $500 to $2,500 and become partial equity owners of the building. TLee Development then organized a campaign made up of free online courses aimed at educating residents on how real estate development works, informing them about its potential benefits and risks, and providing a clear pathway to get residents involved.  
TLee Development hopes this opportunity will pay its dividends by strengthening community connections among residents through a sense of ownership and building stronger attachments to the neighborhood in which they live.
Since the end of the education campaign, 85 residents have invested in the building. Owners can expect to receive annual returns based on the terms of the investment. And owners and tenants will have an opportunity to elect and serve on a committee that will make decisions on property management. Lee noted that this ownership structure is a first for TLee Development. "It's an experiment," he explains. "This is an investment of time, energy, and money that is not about a financial return but a social return." TLee Development hopes this opportunity will pay its dividends by strengthening community connections among residents through a sense of ownership and building stronger attachments to the neighborhood in which they live.
Lessons Learned on Inclusive Community Development
Relationships are key: Fostering strong relationships with residents and trusted community organizations is key to getting people involved and informed. Not every individual can attend every meeting, but community organizations can educate residents about the opportunity for development and help gather input through their networks. Likewise, offering multiple ways for residents to engage in providing feedback on development types and features, such as by inviting them to attend in person or virtually, will help promote more participation. TLee Development acknowledged that even with these efforts, it is challenging to reach the most marginalized residents who may have less time and resources available to engage in the process.

Be transparent about what you can offer and bring real choices to residents. TLee Development noted that asking residents broadly, "what do you want" is disingenuous, as the developer cannot reasonably accommodate every request. Instead, the developer should organize meetings around a potential project where residents can better understand the tradeoffs of different choices and weigh in on what they care about most. This includes offering an option for community members to say no to a project and to reconvene when a better opportunity arrives. 

A stake in the community builds accountability: TLee Development is local, which helps to build in accountability. The organization only works within a half mile radius of Dorchester and has enough credibility that it receives unsolicited calls for developments on people's properties that they otherwise wouldn't find. Therefore, maintaining and nurturing trust with the Dorchester community is critical to sustaining their business model.
Conclusion
Participation from residents is embedded throughout the development process for 1463 Dorchester Avenue, including hosting community meetings to select the small businesses for the building's retail space. One impetus for this approach, Lee shared, is to answer the question: "How do we get people involved and encourage them to participate through a sense of ownership and community building so that people feel more attached to where they live and the people they live next door to?"