The UpTown neighborhood holds a unique place in the history of Toledo, Ohio. In the late 1800s trolley lines were implemented, providing transportation to downtown and heightening the district's appeal. By the early twentieth century, there was increased demand for housing and a growing population that spurred commercial development. Today, UpTown remains a central neighborhood of Toledo with a dynamic art scene. However, the neighborhood also faces adversity, with more than half of the residents living below the poverty line and high rates of chronic diseases like asthma and diabetes. Nevertheless, the UpTown community is resilient, evolving, and full of promise. It is also home to a health care system's $50 million initiative aimed at addressing social determinants of health that includes the development of a full-service neighborhood grocery store, Market on the Green. 
ADDRESSING THE SOCIAL DETERMINANTS OF HEALTH 
Health Outcomes: Linkage to care, screening for SDOH in multiple care settings, providing healthy foods in a food desert
Education: Ebeid Center's State Nursing Assistant (STNA) classes and certification, financial literacy classes, teaching kitchen
Jobs: Workforce development, Ebeid Center's job training program, STNA job placement, grocery store employment for trainees
Food Access and Food Sovereignty: Creation of a grocery store, mobile market, addressing food insecurity, accepts Supplemental Nutrition Program Assistance (SNAP) and Women, Infants, and Children (WIC) Nutrition Program. 
OVERVIEW
ProMedica is a mission-based, health and well-being organization headquartered in Toledo, Ohio serving communities in 28 states. The focus of ProMedica's social determinants of health (SDOH) efforts has been in neighborhoods where residents are largely people of color, bringing an intentional focus on racial equity. Initially, the health system aimed to target childhood obesity as a key SDOH. In 2009, however, after collaborating with local schools and through conversations with students, parents, and nurses, ProMedica quickly discovered that the underlying causes of childhood obesity were hunger and lack of access to healthy foods. In attempting to move upstream to address the root cause of the problem, they found neighborhood corner stores did not offer nutritious foods. In addition, local and national grocery stores declined to partner because of fear of financial risk. In response, in 2015, ProMedica opened Market on Green, a full-service grocery store. Owned by ProMedica and run by Sodexo, Market on the Green is part of a much larger 10-year $50 million community investment forming part  of the ProMedica Ebeid Neighborhood Promise for place-based investments. The ProMedica Ebeid Neighborhood Promise, named after the late philanthropist Russell  J. Ebeid, is a catalytic, multifaceted initiative developed to address social determinants of health while creating a model for neighborhood revitalization. This initiative birthed the Ebeid Center, which houses Market on the Green, and is dedicated to increasing access to healthy food, delivering nutritional education, and providing job training opportunities.
The ProMedica Ebeid Neighborhood Promise, named after the late philanthropist Russell J. Ebeid, is a catalytic, multifaceted initiative developed to address social determinants of health while creating a model for neighborhood revitalization.
Toledo's UpTown neighborhood, a designated food desert, was chosen to house the Market on the Green grocery store, the cornerstone of the Ebeid Center. As a neighborhood on the verge of becoming re-established, UpTown was identified as a location with great chances of revitalization success. Within a one-mile radius of the grocery store, the neighborhood comprises 9,000 households with a total population of 21,517. The average median household income within this area is $20,299 annually, with one-half of the households in the area relying on SNAP benefits to put food on the table.
Market on the Green aims to address two of the four areas within ProMedica's neighborhood revitalization model; improve health outcomes and offer job-training opportunities for the UpTown neighborhood. The second floor of the Ebeid Center features a teaching kitchen in addition to community programs, such as health resources, financial literacy, and job training. The store is staffed by participants of the Ebeid Center's 6-12-month job training program. Market on the Green accepts SNAP and the special supplemental nutrition program for Women, Infants, and Children (WIC) and hopes to help reduce the experience of food insecurity in the UpTown neighborhood. Additionally, the market proudly supports local vendors, including Toledo's Sam Okun Produce Company, Amish-made goods from Walnut Creek Foods, and coffee from Flying Rhino Coffee & Chocolate.
PROJECT DETAILS
Project Components: Access to fresh and affordable food, community revitalization, job training.
Key Stakeholders: The City of Toledo,  The Arts Commission, Job and family services, The Local Initiatives Support Corporation (LISC), The Homelessness Board, Toledo Community Foundation, United Way, and UpTown Association. 
Financing: Community benefit dollars, philanthropic and individual grants and donations.  
Project status: Opened 2015 
Project scale: $1M operating budget, 6,500 square ft building
PARTNERSHIPS 
Key partners in the Market on the Green grocery store project were The Local Initiatives Support Corporation (LISC), The Arts Commission, The City of Toledo, Job and family services, Toledo Community Foundation, The Homelessness Board, and UpTown Association. 
LISC has supported Market on the Green grocery store as a key stakeholder, providing initial support and funding for the Financial Opportunity Center (FOC) that is housed in the same building as Market on The Green. Based in New York City, this nationally recognized community development finance institution includes supporting business and economic growth by providing capital, strategy, and expertise to local partners across the country. LISC and ProMedica began working together to launch the FOC at the Ebeid Center, a model replicated in over 100 locations around the country. The FOC provides employment and career counseling, financial coaching, low-cost financial products that help build credit, savings, and assets, and more. 
Job and family services developed a partnership with the program to help implement job training and employee recruitment. The Toledo Community Foundation provided grant dollars to fund the initial development of the grocery store. The Arts Commission, an organization that provides quality arts programming and services to the metropolitan Toledo area, partnered with Market on the Green to work with local artists to place murals on the front of the store's building. The neighborhood association, UpTown association, has contributed to community engagement efforts through gaining board support and getting feedback from the community. 
COMMUNITY ENGAGEMENT STRATEGIES 
Vibrant arts, food, and culture are beginning to bubble up in the UpTown community. There are many new restaurants, coffee shops and local places and spaces creating excitement and boosting the economic development that will be critical to sustaining the community. While some of the activity pre-existed  before the center's opening in December 2015,  both the Ebeid Center and Market on the Green have fueled new energy and new businesses. ProMedica and its partners recognize that sustainable community change happens over the long term and requires significant, ongoing engagement and trust with community members. The Ebeid Neighborhood Promise is framed as an opportunity to advance the progress that has been made to date and to further revitalize the neighborhood, while ensuring these efforts align with the needs of the community and its residents. Consequently, ProMedica has deployed a comprehensive community engagement strategy. 
ProMedica and its partners recognize that sustainable community change happens over the long term and requires significant, ongoing engagement and trust with community members.
The comprehensive community engagement plan for Market on the Green included goals of consulting, collaboration, involvement, informing, and empowering residents as outlined below:
Community Engagement Plan Objectives
Ensure commitment and greater ownership of the Ebeid Center 

Strengthen relationships between ProMedica and the community 

Enable the UpTown community to be better informed

Assist Ebeid Institute staff to gain a better understanding of local needs

Help to identify issues which may not otherwise have been considered

 
Community input has been critical to the successful implementation of the Ebeid Center. In order to be sure that the genuine needs of the UpTown community were addressed by the services and programming in the center, ProMedica administered a community needs assessment survey in 2016 and organized several other engagement efforts. This includes Community Conversations, where residents came together for discussion and dialogue about shared values—past, present, and future. These sessions were open to the public and took place in a variety of neighborhood spaces in an effort to capture the diversity within the community.  As part of an effort to understand residents' opinions of their neighborhood, a community mapping project was employed. This strategy used maps and photographs of an area or specific location to illustrate what people liked or disliked and improvements they would like to see. This generated ideas explored through small group discussions and recorded on post-its or pre-prepared cards. These discussions, facilitated by the manager of the Ebeid Center and UpTown community partners, helped residents explore issues, build consensus, and identify any areas of conflict.
FINANCES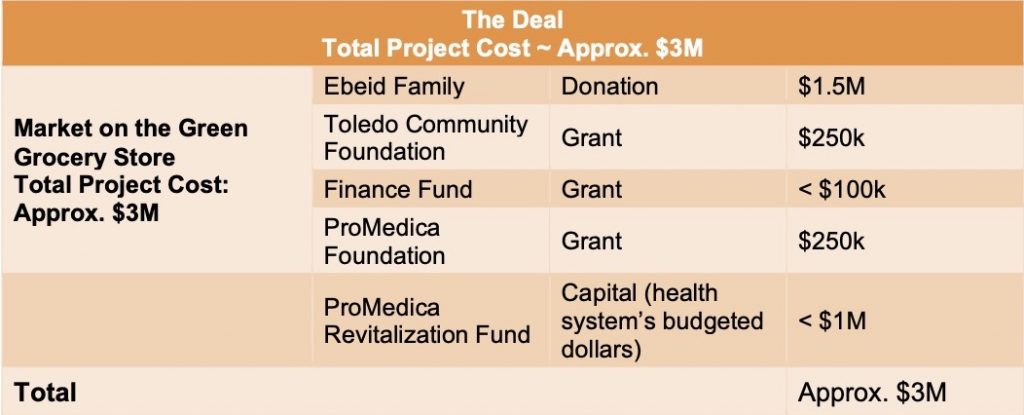 Click to view project financing details PDF
Market on the Green was largely funded through donation and grant dollars. A large gift of 1.5 million dollars was given by the Ebeid family to help fund the initial grocery store project, and also includes grants from the Toledo Community Foundation, the Finance Fund and the ProMedica Foundation. The remaining funds came from ProMedica's capital dollars, allocated from the system's advocacy and community relations budget. The building that houses Market on the Green was purchased from the City of Toledo for $1, with a stipulation that ProMedica would maintain and operate the park located next door. 
THE FUTURE AND GROWING PARTNERSHIPS
ProMedica continues to grow their community development partnerships that build on existing relationships as well as fostering new ones. In addition to being a stakeholder in funding Market on the Green, LISC has partnered with ProMedica on other initiatives. In 2018, the two organizations initiated a $45 million commitment to scale up economic opportunity and improve health outcomes in Toledo and the surrounding region over the next decade. LISC contributed $25 million and ProMedica gave an additional $20 million. $20 million will be deployed as grants for community programs in Toledo and other areas, with the remaining $25 million forming part of a 10-year loan fund for other developments that will improve health in Toledo, northwest Ohio, and southwest Michigan. Following the impact of the COVID-19 pandemic, a grant through United Way has provided the UpTown community with COVID Carekits that offer food, cleaning products, sanitary products, and other items to residents that will continue to support the wellbeing of the neighborhood.