Watch the recording of the Build Healthy Places Network's March 25, 2021 Network Commons, where Renae Badruzzaman from BHPN and Jen Lewis-Walden from Shift Health Accelerator introduced the Healthy Neighborhood Investments: A Policy Scan & Strategy Map. 
On the March 25th Network Commons, Bobby Milstein from ReThink Health provided an overview to the Thriving Together Springboard that was used as a fundamental framework for the Policy Scan. The Policy Scan & Strategy Map operationalized the Springboard, by adding federal, state, and local policies that have potential impact for health and racial equity within the vital conditions. This process was informed by a 38-member Policy Council.
Featured speakers included:
Julia Caplan, MPP, MPH, Program Director, Health in All Policies
Laura Choi, MPP, Vice President of Community Development, San Francisco Federal Reserve Bank
Bich Ha Pham, JD, Director, Communications and Policy, Healthcare Anchor Network, Democracy Collaborative
Audiences learned about belonging and civic muscle as a priority vital condition to advancing health and racial equity. Through a moderated discussion, the featured speakers shared the impact that policy has on health and explored the roles that multi-sector coalitions, healthcare systems, community development organizations, community leaders, and policy makers can take to promote policy change that advances health and racial equity and cross-sector healthy neighborhood investments.
Watch the Event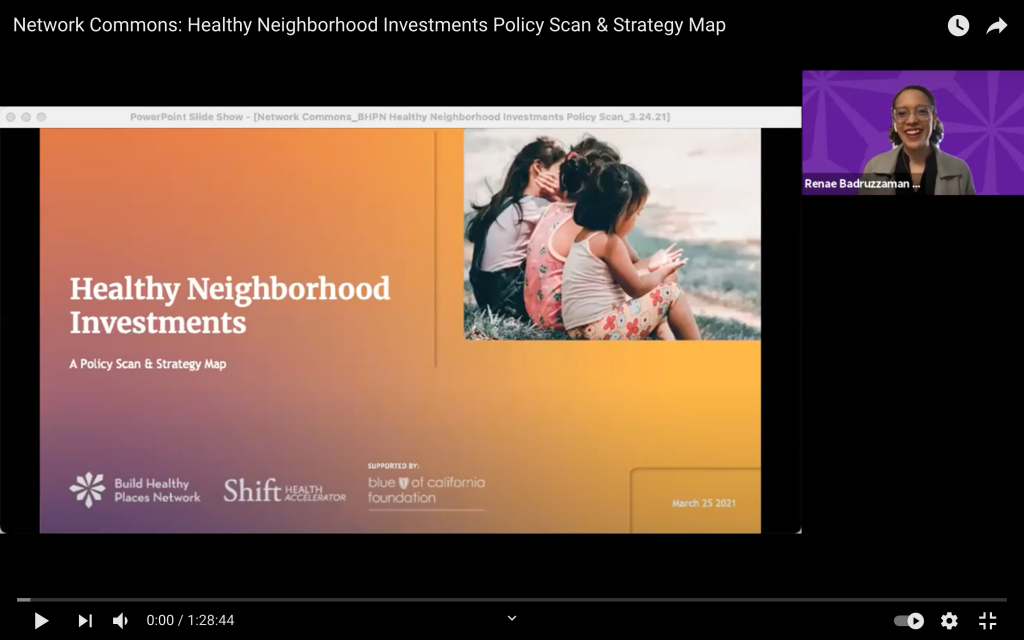 Learn More 
Check out these resources to learn more about the organizations and topics profiled in this event:
Continue the conversation 
If you're interested in learning more and finding partners to work on policy change, join us at our upcoming convening: Healthy Neighborhood Investments: Policy Convening for Advancing Health and Racial Equity 
May 19th: Plenary Session
May 20th: Concurrent Tracks 
Please take a moment to give us feedback and let us know how you are using the scan. Email us at: policyscan@buildhealthyplaces.org. 
Finally, we received so many great questions during the event. Thank you! You can continue the conversation via Twitter @BHPNetwork or join us on LinkedIn. #NetworkCommons. 
Catch up on Network Commons
Interested in learning more about Network Commons? Check out highlights from our past events.