Understanding the reasons hospitals and health systems are changing their investment strategies is important for all communities.
This blog originally appeared on Urban Institute's Urban Wire blog.
Last spring, Kaiser Permanente, one of the US's largest nonprofit health systems, announced an impact investment of $200 million to address the affordable housing crisis in markets that it serves.
This move by Kaiser shows how some nonprofit hospitals and health systems are rethinking what it means to be a charitable institution and reimagining their definitions of community benefits activities to include community health–promoting investments, rather than charitable donations.
What explains this shift?
Acknowledging the importance of social determinants of health
As a society, we're growing more aware of how social and economic factors, known as social determinants of health, contribute to people's health status.
Homelessness and housing instability are associated with anxiety, depression, and other negative health outcomes (PDF). Housing unaffordability (PDF) is linked to families lacking funds to cover other health-related living necessities, such as food, utilities, and medical care.
Ongoing changes in the health care sector
Changes to the Affordable Care Act in 2014 require all tax-exempt hospitals to conduct a community health needs assessment (CHNA) every three years and develop an implementation strategy for addressing the needs identified by the CHNA.
This requirement, coupled with a new understanding of how social determinants affect health outcomes, means that more hospitals and health systems are shifting their funding further upstream to focus on preventing negative health outcomes, rather than simply treating them.
Philanthropy's move toward impact investing
Broadly, philanthropy is shifting away from an exclusive focus on grantmaking toward portfolios that include both grantmaking and impact investing instruments. Impact investments are investments made in projects or entities that generate a social or environmental return alongside a financial one.
This trend, spearheaded by several major foundations like the John D. and Catherine T. MacArthur Foundation and the Kresge Foundation, are emphasizing the role such impact investments, typically deployed as program-related investments, have in catalyzing innovative solutions.
For the health sector, impact investing can enable nonprofit hospitals and health systems to address social determinants of health while maintaining their financial bottom line. These entities are investing in projects like community land trusts and affordable housing development that can have significant effects on health outcomes for the populations they serve.
The Boston Medical Center (BMC) received permission from the state department of public health (PDF) to invest their Determination of Need obligation in the development of Bartlett Station (PDF), a mixed-income development of rental and ownership properties. When asked about the motivation for the investment, Thea James, associate professor of emergency medicine at BMC said, "We always talk about the mission—well, this [affordable housing] is square within our wheelhouse. It got people to shift from thinking about charity to equity."
And organizations like the Center for Community Investment, through their Accelerating Investments in Healthy Communities program, have started to provide strategic advice to health systems and hospitals interested in taking an impact investing approach to their social determinants of health work, potentially expanding the practice.
A survey of hospitals helps us illuminate and harness these trends
To better understand hospitals' current practices, motivations, and challenges in addressing patient and community housing needs, the Urban Institute, through a grant from JPMorgan Chase, surveyed nonprofit hospitals and health systems across the US.
From this survey and a subsequent workshop among health system and hospital administrators, we learned that affordable housing impact investing by nonprofit hospitals is still a nascent practice but that many are poised to start.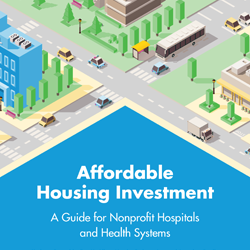 Most hospitals understand that housing is an important platform for health, and many are already partnering with local housing organizations, sharing data, and providing medical care at affordable housing sites. Based on this work, researchers at Urban have created a guide for affordable housing investment for nonprofit hospitals and health systems.
In this resource, we articulate ways that hospitals can invest for impact while creating affordable housing options for their patients and communities:
considering nontraditional assets for charitable investments, such as endowments, pensions, and insurance reserves
donating land or buildings or swapping land with a housing developer to provide the fundamental (and often the most expensive) resource for housing development
using their financial position to enhance credit, lowering borrowing costs and therefore the overall cost of the project, or to provide a direct loan for construction, renovation, or rehabilitation costs
contributing staff time or providing capital in the form of a grant to encourage others to invest in affordable housing development
Equipped with knowledge on the ways that they can use impact investing tools and approaches to expand affordable housing opportunities, nonprofit hospitals and their partners can forge important partnerships in their communities, help address pressing local needs, support improved health outcomes, and secure their financial position.