Our team is regularly on the road, hearing and learning about how community development and health are joining forces. In this occasional series, we report on what we are discovering to help you stay on top of the cutting-edge policies, tools, and projects in the fields. Daniel Lau, Manager of Strategic Engagement, caught us up on his recent trip to the Albuquerque.
Read the full Dispatches series!
Where were you?
I was in Albuquerque for the Healthy Communities Forum: Social Determinants and Local Economic Development. It was sponsored by The Robert Wood Johnson Foundation Center for Health Policy and the Business Alliance for Local Living Economies (BALLE).
It was remarkable how diverse of a group had gathered. Hosted at the University of New Mexico, there were also speakers from the local hospital system, people from local nonprofits, local community activists and organizers, and even local government.
I lived in Albuquerque a few years ago during a fellowship program, so it was exciting to return and see the momentum that is building in the community there. The community is developing an economic framework with an emphasis on local job creation and improving health and well-being.
Who did you meet?
I reconnected with Leslie Lindo of BALLE about how we can create robust local economies for communities in an ecological and sustainable way. I will also be attending BALLE's Leadership Summit in Pacific Grove, CA in December. Michelle Melendez was a dynamic panelist at our recent Network Commons event, and I loved hearing her explain the new partnerships and relationships she has cultivated with different CDFIs (Community Development Financial Institutions) . Finally, I also got the opportunity to meet CJ Hager of Vitalyst Health Foundation and hear her speak about their recent report on how to engage hospitals and their community benefits.
What were some key issues you found interesting at this meeting?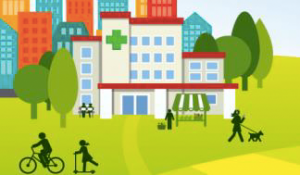 Albuquerque is going through a boom in development, and there were many conversations about equitable development. Some of the discussions between local activists and the mayor underscored the importance of bringing all constituents to the table when considering community development. Asking the question, "who is this development for?", local community activists spoke for residents with fewer economic resources who have felt excluded from development planning conversations and experienced economic insecurity due to rising prices.
A conference with such a big tent seems to happen very rarely, so it was noteworthy to have so many different community members present in one conversation about health, economic development, and equity. I thought it was a good model for convening a variety of local and regional stakeholders.
Are there any buzzwords or framing phrases that came up at the conference??
I heard the buzzword "Healthy Local Economies," which I liked a lot as a framing. It incorporates the economics of the local market, but it also includes the goal of improving the health of all people. It touches on a lot of issues including income and financial stability, better housing opportunities, and better education.
Did you learn about any interesting projects?
Congresswoman Michelle Lujan-Grisham and Albuquerque Mayor Richard J. Berry discussed keeping money within the local economy. They are exploring the idea of putting a cap on the import and export of goods produced outside of the state. As they look at hospitals and health systems, they are asking the question, "why do we buy so much from outside the state instead of leveraging our purchasing power here?"
Our partner, Michelle Melendez, discussed the community food hub that she highlighted in one of our recent blogs. They have developed the project to a point where they are helping farmers to add value to their goods by making jams and other activities that stimulate the local economy and create new jobs. Seeing these bright spots where there is measurable progress in exciting initiatives is inspiring.
What is the best question anyone asked?
With so many local parties involved in the conference, the ability to focus the conversation around local issues was a very positive feature of this conference and kept conversations very grounded. This focused approach facilitated Albuquerque-centric questions, like "what does equitable development look like specifically here in Albuquerque?" Figuring out how to cater community development to  respond to the needs of local residents is an essential task. Those conversations reinforced the notion that solutions to transform local economies and healthy communities will look very different in each city.